Million Mask march put officers' lives at risk – police chief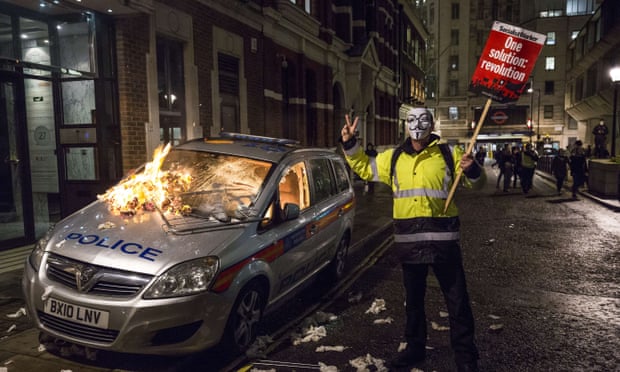 Cdr Harrington said a significant number of the 700-1,000 protesters came 'intent on violence or disorder'. Photograph: Jack Taylor/AFP/Getty Images
The violence at an anti-austerity protest in central
London
on Thursday night was so serious that it threatened the lives of officers, a police chief has said. Detectives are hunting for those who brought violence to London's streets during the Million Mask March. Four officers were injured and several police horses were attacked in the unrest.
Scotland Yard's most senior public order officer, Commander Ben-Julian Harrington, told the Guardian that officers had placed themselves in the way of protesters who wanted to attack symbols of Britain's democracy and establishment.
Fifty people were arrested during the mayhem and at least 10 others are being sought by police in connection with the violence. Detectives are scouring video footage on social media for the identities of suspects. The protest, which was billed as an anti-austerity march, led to some of the most violent scenes on the capital's streets in recent months, including the burning of a police car.